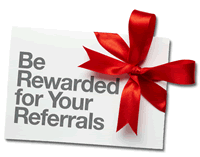 TRAVEL CLUB T &T REFERRAL PROGRAM
WHAT'S IN IT FOR YOU?
For every person you refer to purchase a Travel Club T & T Membership Card you get a TT$50 value which can be used in 1 of 3 ways:
The Referrer (person referring) can utilise the TT$50 to reduce their own Membership cost

If the Referrer is already a Travel Club T & T Member, they can opt to use the TT$50 as credit towards the next year's Membership

The Referrer can opt for a Cash payout after each referral or can build up an account balance which will be payable on demand.
HOW DOES IT WORK FOR INDIVIDUALS?
The person who has been referred and bought into Membership must email us the name and email address of the Referrer and we will send off an email to both the referrer and the referee to confirm receipt of the details. We will then ask the referrer to indicate which of the 3 ways above they will like to obtain their TT$50 value and we will handle the transaction accordingly.
WHAT ABOUT GROUP DISCOUNTS?
The REFERRER can be PART OF A GROUP NOW APPLYING FOR MEMBERSHIP and agree to a group discount.
Let's say a referrer gets 4 persons to purchase the Travel Club T &T Membership card, the Referrer is entitled to a value of TT50 x 4 = TT$200 which will be applied as a group discount.
The number of Members buying into the program is 5 (including the referrer) which should cost (5 x TT200) = TT$1000.
The group discount applies TT$1000-TT$200 = TT$800.
The cost per card after the discount works out as TT800/5 persons = TT$160 per person.
HOW DOES IT WORK FOR GROUPS?
Due to differences in cost breakdown, persons desirous of using the Referral Program for Groups should neither purchase their cards online nor via outlets but should contact us DIRECTLY via email to inform us.
Our email: info@travelclubtt.com
We must be supplied with the name of the "Referrer" and "Referees" under those headings. Postal Address, contact # and email for all parties.
We will contact and coordinate for deliveries at home / offices. All deliveries must be paid by cash.